Participant Media's Red Carpet Screening of 'That Which I Love Destroys Me'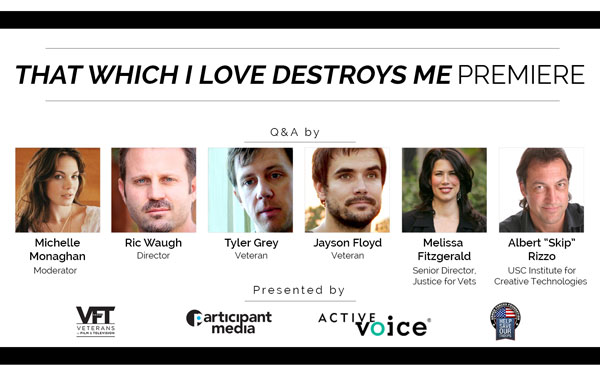 Join us! Participant Media's Return the Service Campaign, in association with Veterans in Film and Television (VFT), Armed Forces Foundation, Active Voice and The Los Angeles Film School, cordially invites you and one guest to an exclusive (FREE) red carpet premiere of Ric Roman Waugh's moving documentary That Which I Love Destroys Me (RSVP only).
Participant Media will kick off its ten-city screening tour of the film at The Los Angeles Film School Theater. There will be a red carpet (look snappy!) before hand and following the screening will be a Q&A with director Ric Waugh (writer/director of FELON, SNITCH and the upcoming SHOT CALLER), veterans Tyler Grey and Jayson Floyd, actress Melissa Fitzgerald (The West Wing) and Senior Director of Justice for Vets, mental health expert Skip Rizzo. Additionally, we're thrilled to have Q&A moderated by actress Michelle Monaghan (Fort Bliss, True Detective, Source Code)!
Click here to see photos from the VFT That Which I Love Destroys premiere.